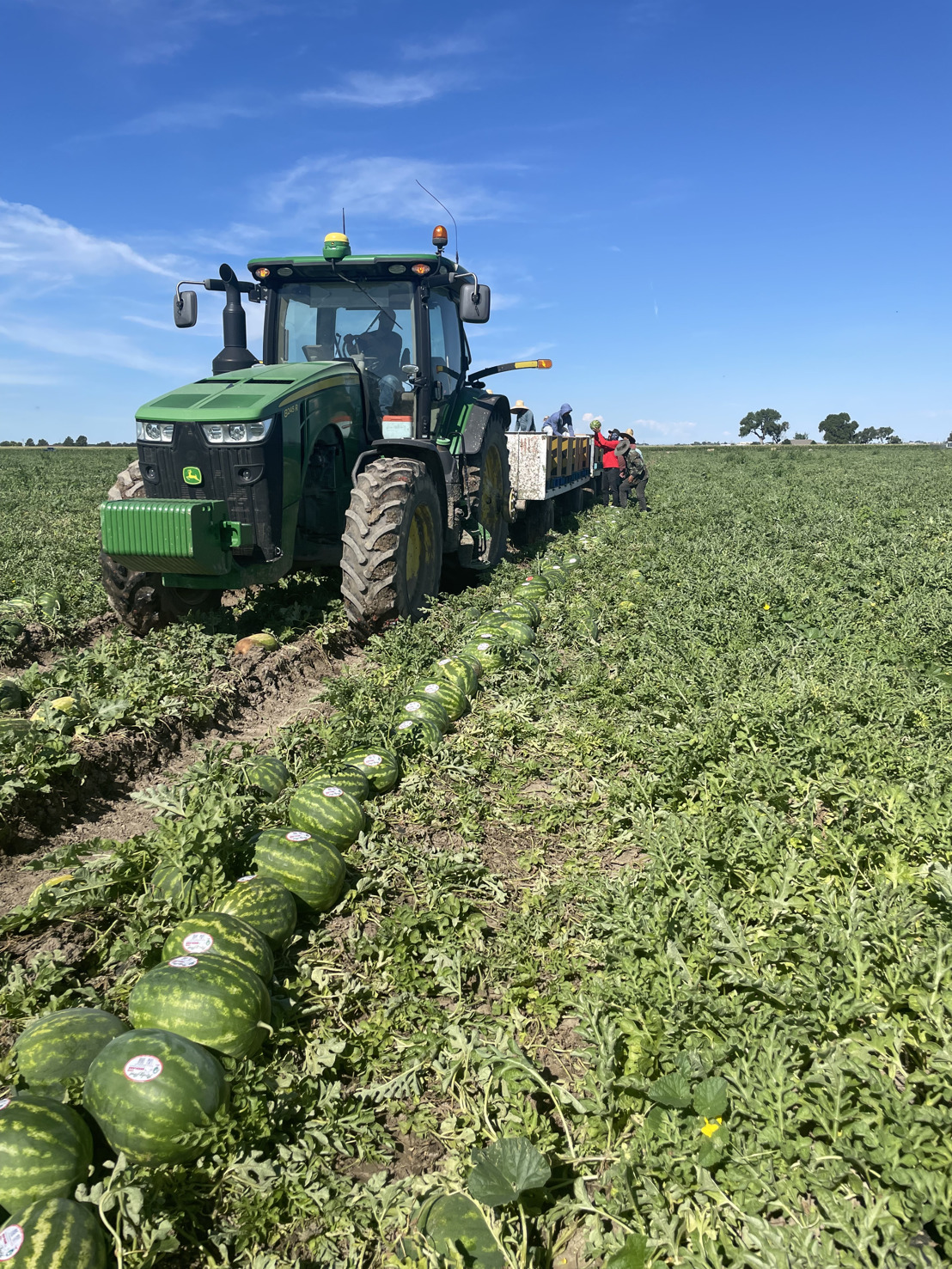 Welcome back to Colorado's favorite summer snack: Rocky Ford Growers Association Cantaloupe has arrived!
Rocky Ford Growers Association member farms send melons from field to store in about 24 hours
If you have a sweet tooth, this year's crop of Rocky Ford Growers Association Cantaloupe and Watermelon is sure to hit the spot! The family farmers of the Rocky Ford Growers Association just began harvesting "the sweetest cantaloupe in recent years," according to RFGA President Michael Hirakata. Melon lovers should start seeing the first batch hitting supermarket shelves this week.
Why is it so sweet this year? Do you remember how hot it was in June and most of July along Colorado's Front Range and High Plains? Who could forget!?? The hot days and naturally cool nights in Rocky Ford stimulate the sugars in the melons. By the time monsoonal moisture and cooler weather arrived in late July, the constant tug of war between sweltering heat and cool nights along the Arkansas River had done its job! ​
"We're always excited about harvest but this year in particular, people are in for a real treat," said Michael Hirakata, President of the Rocky Ford Growers Assocation. "The weather cooperated perfectly, creating a sweet crop of cantaloupe and watermelon that really stuck out to our tastebuds!" ​
RFGA member farms use the latest technology, from row coverings that reduce evaporation, to GPS-guided tractors so precise they don't deviate more than an inch to the right or left over the length of each row. This technology protects the drip lines, row covers, and baby plants while reducing the amount of fuel used. Additional technology tracks the melons from seed to the state-of-the-art packing shed where the melons are carefully cleaned, cooled, and packed for shipping.
When you see the Rocky Ford Growers Association sticker, you know your cantaloupe, watermelon, and honeydew melons have been grown on farms that adhere to the highest national health and safety practices mandated by the Good Agricultural Practices (GAP) certification. RFGA farms use cutting-edge safety practices throughout the growing, packing, and shipping process to produce the safest possible cantaloupe.
The Rocky Ford Growers Association members are family-owned farms, several of which are being operated by 5th and 6th generation farmers. RFGA members work together to coordinate planting so that the harvest stretches from mid-July through mid-September.
Jordan Sherman M&C Communications